In the early days of the Internet, when there was no existence of domain an internet user had to type the IP address to reach a website. It was not user-friendly. Now in the age of modern Internet, we have a memorable domain name assigned to some IP address.
It is the role of DNS lookup to answer the IP address for the requested domain name. Hence, DNS is called an address book of the Internet. It is better when it's faster and reliable.
The most anticipated, DNS services from bunny.net has been launched. Currently, I am using at gulshankumar.net and based on my experience I am going to discuss about its complete features.
You can login to bunny.net dashboard and sign up for the preview version for early access.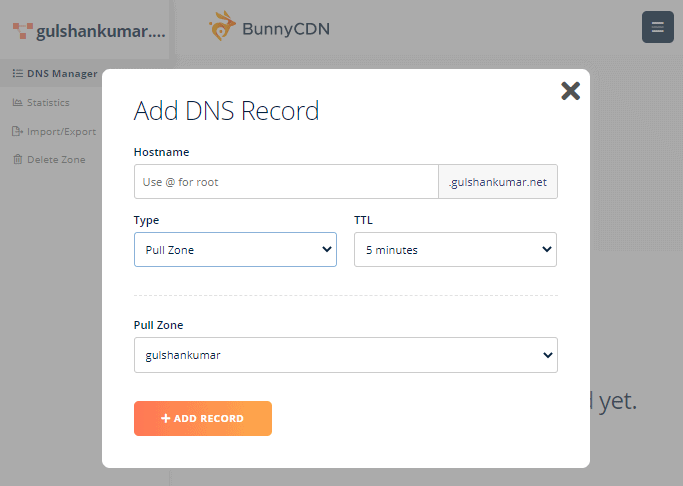 11 Types of DNS records to be supported
bunny.net support all major types of DNS records (including Pull Zone record). 😍
A – Allow to pointing any IPV4 address
AAAA -Allow pointing any IPV6 address
CNAME – Allow pointing any hostname
MX – The Mail Exchanger record is helpful for catching incoming emails
TXT – A helpful record type used for verification purpose
SPF – Sending Framework Policy for email security
SRV – Services record according to RFC 2782
CAA – For defining specific Certificate authority
PTR – Generally used for some email server.
Pull zone – Notably, you can point your domain directly to the Pull zone. 👏
Script – Something, I have recently spotted.
Time to Live
You can have a minimum of 15 seconds to maximum 1 day TTL.
The shorter TTL allows the advantage of faster DNS record propagation for any future changes.
Meaningful Statistics
Bunny team love representing data we can remember from past Real-Time logs feature.
The DNS analytics system provides one-month data with detailed information about record types such as A, AAAA, CNAME, etc. Information like this generally helps in technical debugging.
Making user experience better, DNS info also appears in the left side secondary menu.
Simple Migration
The Import and Export feature helps in getting complete zone entries. They support Bind format in future. This makes life easier for migration from Cloudflare DNS to BunnyCDN.
Safety Deletion
For safety purpose, the system ask the user to confirm the deletion by typing the domain name.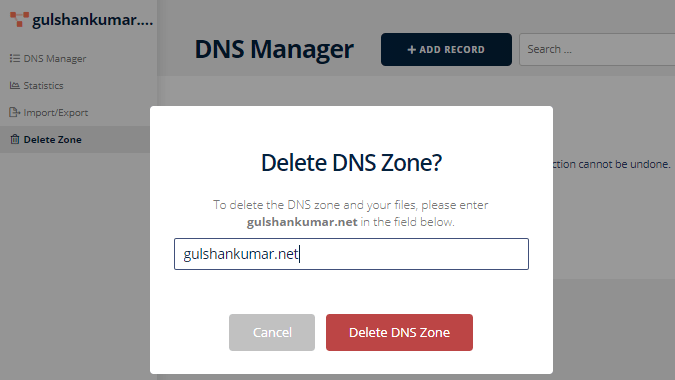 What's special about the Pull Zone Record?
Generally, we see that CDN company faciliating their services in mainly three ways –
Nameservers only: Cloudflare is a nice example of this category.
CNAME: BunnyCDN, CloudFront, KeyCDN and Stackpath supports the CNAME method. Exceptionally, Cloudflare support CNAME for Business and Enterprise customers.
Nameservers and IP address: Stackpath allow their customer to use CNAME and Anycast IP address i.e, 151.139.128.10 or 151.139.128.11. Similarly, Sucuri offers direct IP integration with optional nameserver method as well. Notably, this method offers slightly better performance.
From a CDN provider point of view, CNAME is a straight forward way. I feel it works great for general subdomain however it is still slightly slow for a custom hostname and complicates routing decision for the naked domain.
My personal experience with CNAME over root domain name was not that great. I noticed subdomain host was routing properly while non-www routing was going off-country. The Pull Zone record offered by BunnyDNS fixes this problem elegantly.
Wrapping up
I highly recommend this product if you want to take advantage of custom nameservers or setup full site acceleration over BunnyCDN. The pricing is very affordable.
Reference
Shall I switch from Cloudflare to BunnyDNS?
Do you use BunnyCDN services, especially full site acceleration? If yes, make switch else not needed.