Het hebben van meerdere e-mailadressen is gemakkelijk, maar het controleren van elke mailbox is een tijdrovende en lastige klus. Pas deze truc toe om alle webmail e-mails in één Gmail mailbox te beheren.
Nu kunt u zich gemakkelijk ontdoen van ingebouwde e-mailclients van cPanel zoals – Roundcube, Squirrel Mail, enz. Met behulp van deze techniek kunt u e-mails verzenden en ontvangen van meerdere aangepaste e-mailadressen op één Gmail-ID.
Om webmail in Gmail te configureren, volgt u gewoon de volgende twee stappen
Eisen
Toegang tot het cPanel van de hosting
Een Gmail-account
cPanel e-mail doorsturen naar Gmail
Stap 1. Log in op uw cPanel en ga naar Email accounts sectie
Stap 2. Selecteer uw e-mail, in de vervolgkeuzelijst Meer klik op Access Webmail
Stap 3. Ga naar Forwarding Options

Stap 4. Klik op Add Forwarder knop

Stap 5. Voer uw e-mailadres in, waarop u alle e-mails van uw aangepaste domein e-mail wilt ontvangen. Klik dan op de knop Forwarder toevoegen.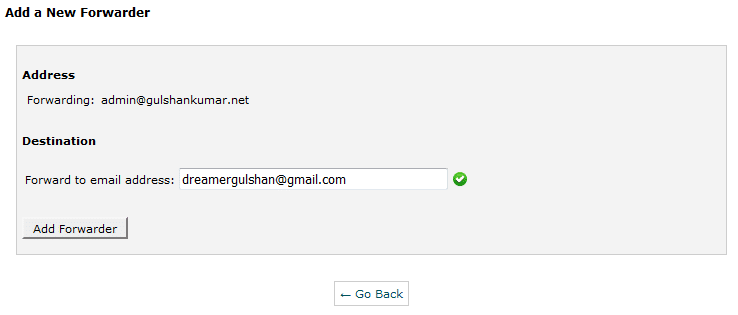 Stap 6. U ziet een bevestigingsbericht als dit.


E-mail verzenden vanuit Gmail via SMTP
Ga nu naar Gmail-instellingen
Stap 1. Onder Accounts en Import optie, Klik op Add another Email address
Stap 2. Voer hier uw aangepaste e-mailadres in & klik op Volgende stap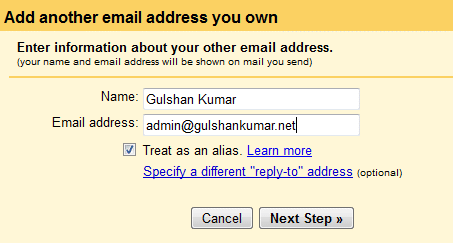 Stap 3. Zoek SMTP details die door te klikken op 'Configureer Email Client' optie onder email sectie van uw cPanel. (Ref: Stap 3). U kunt ook contact opnemen met de host voor het verkrijgen van SMTP informatie.
Stap 4. Op de configuratiepagina vindt u uw SMTP-servernaam en PORT-nr.

Stap 5. Afhankelijk van uw hosting omgeving. Weinig hosts laten mail toe via PORT 25 (niet-beveiligd), en enkele vereisen strikt SSL/TLS instellingen omwille van de veiligheid. Mijn host vereist beveiligde instellingen. Dus, mijn instelling is als volgt. Hoewel, ik raad aan om poort 587 te gebruiken.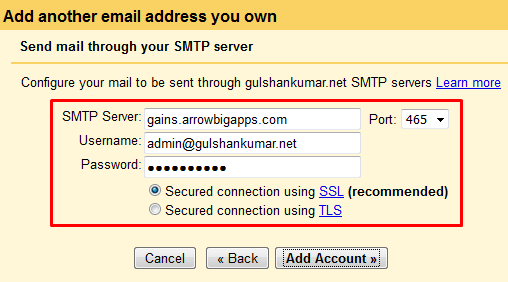 Stap 6. Nu is het tijd om het e-mailadres te verifiëren om e-mail te versturen vanaf het aangepaste domein via Gmail. Controleer uw aangepaste e-mail inbox en klik op de bevestigingslink.
of voer de verificatiecode handmatig in. Beide zouden prima moeten werken.
Stap 7. Voor uw gemak kiest u "Reply from the same address the message was sent to".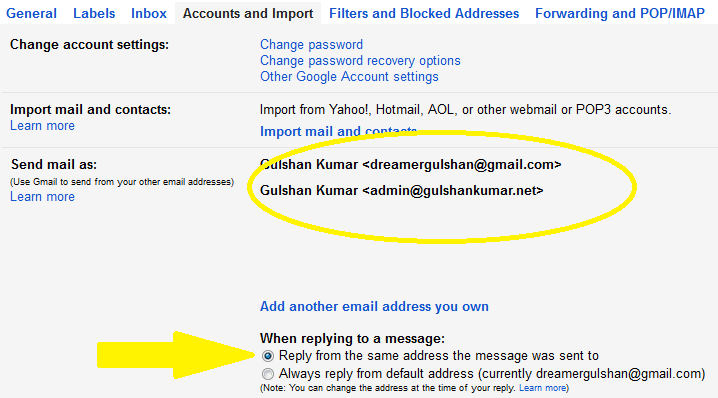 Stap 8. Je kunt het testen door een nieuwe e-mail te maken. U zult zien dat het goed werkt en nu kunt u de e-mail naar iedereen sturen met uw aangepaste e-mailadres, zonder cPanel web-mail client te openen.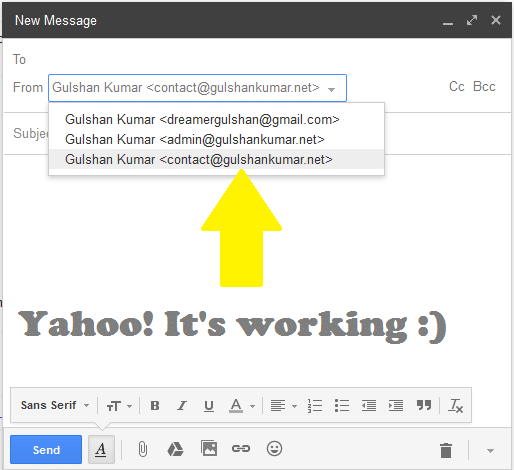 Stap 9. U kunt uw aangepaste e-mail in Gmail instellen als uw standaard e-mail voor het dialoogvenster E-mail samenstellen. Deze functie kunt u krijgen bij Gmail instelling > Accounts en importeren.
In de HTML-modus van Gmail kunt u de 'van e-mail' niet rechtstreeks wijzigen vanuit het samengestelde postvak, dus deze techniek zal de ervaring van het gebruik van e-mail verbeteren, zelfs bij trage internetverbindingen.
Sluit geen compromissen met de veiligheid. Ik zou u ten zeerste aanraden om uw mobiele nummer bij te houden en ervoor te zorgen dat u 2-Step verificatie in uw Gmail-accountinstellingen inschakelt. Aangezien u goed weet dat Gmail is niet zoals Yada..Yada nep Facebook-account. Je zou kunnen gebruiken Gmail-ID aan te melden zo veel andere Google-services en derden toepassing ook. Daarom is de beveiliging van deze e-mail uiterst belangrijk. U kunt deze instellingen beheren op accounts.google.com onder sign in optie.
Ik zou het zeer waarderen als u feedback of suggesties voor dit artikel zou kunnen delen. Bedankt.
✅ Hoe stuur ik mijn cPanel e-mail door naar Gmail?
Log in op cPanel en stel e-mail forwarding in door naar de E-mail accounts forwarding optie te gaan.
✅ Blokkeert Gmail het doorsturen?
Nee, Gmail blokkeert het doorsturen niet.
✅ Hoe lang duurt het doorsturen van Gmail?
Over het algemeen 5-10 minuten. Volg deze gids goed stap voor stap.
✅ Is het doorsturen van cPanel e-mail naar Gmail gratis?
Deze methode is beperkt tot het verzenden en ontvangen van e-mail. Maar als u e-mail rechtstreeks op de Gmail-server wilt hosten, en behalve e-mailhosting ook volledige toegang tot Google-diensten wilt, dan moet u zeker de voorkeur geven aan Google Workspace.
Gerelateerde berichten