Having multiple email address is easy but checking each mailbox is a time consuming and a toughest job. Use this trick to manage all webmail emails in one Gmail mailbox.
Now you can easily get rid of inbuilt email clients of cPanel such as – Roundcube, Squirrel Mail, etc. Using this technique, you can send and receive emails from multiple custom email address at one Gmail ID.
To configure webmail in Gmail, simply follow below two steps
Requirements
Access to the Hosting cPanel
A Gmail account
Forward cPanel Email to Gmail
Step 1. Login to your cPanel and go to Email accounts section
Step 2. Select your email, from More drop-down option click on Access Webmail
Step 3. Go to Forwarding Options

Step 4. Click on Add Forwarder button

Step 5. Enter your email address, on which you want to receive your all emails of your custom domain email. Then, click on Add Forwarder button.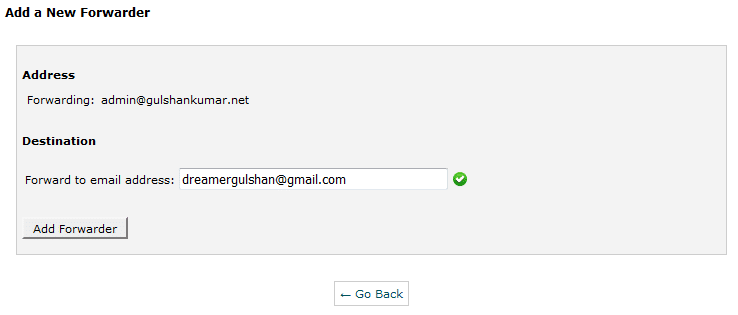 Step 6. You will see a confirmation message like this.


Send Email from Gmail via SMTP
Now go to Gmail Settings
Step 1. Under Accounts and Import option, Click on Add another Email address
Step 2. Enter here your custom email address & click on Next Step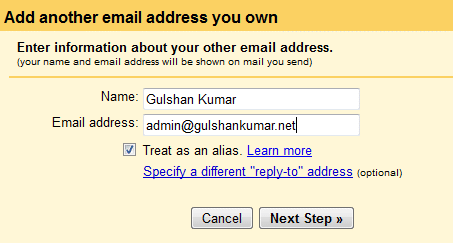 Step 3. Find SMTP details which by clicking 'Configure Email Client' option under email section of your cPanel. (Ref: Step 3). You can also contact from the host for getting SMTP information.
Step 4. At configuration page, you can find your SMTP server name and PORT no.

Step 5. Depending upon your hosting environment. Few host allows to access mail over PORT 25(non-secure), and few strictly requires SSL/TLS settings due to security concern. My host requires secure settings. So, my setting will be as follows. Although, I recommend using 587 port.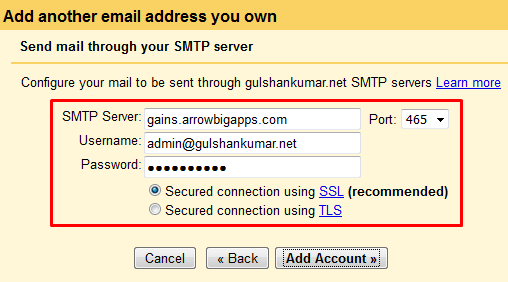 Step 6. Now, It's time to verify the email address to send email from custom domain via Gmail. Kindly, Check your custom email inbox, click on confirmation link.
or, manually enter the verification code. Both should work perfectly fine.
Step 7. For your convenience, you should choose 'Reply from the same address the message was sent to.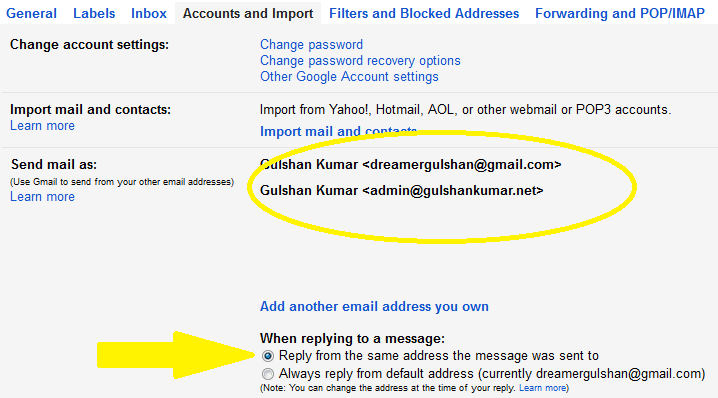 Step 8. You can test it via composing a new Email. You will see it is working fine and now you can send the email to anyone with your custom email address, without opening cPanel web-mail client.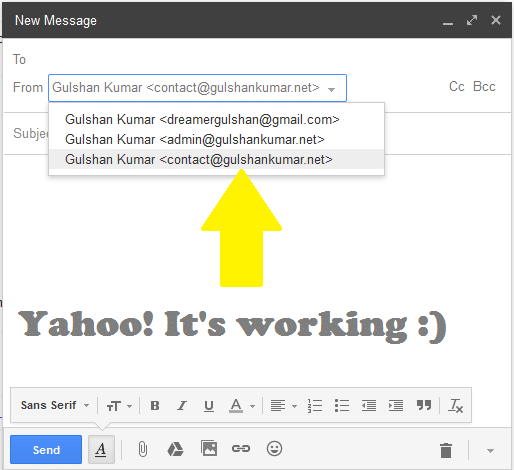 Step 9. You can set your custom email in Gmail as your default email for compose email dialogue box. This feature you can get at Gmail setting > Accounts and Import.
In HTML mode of Gmail, you can't change 'from email' directly from composing mail box, so this technique will improve the experience of using Email even on slow Internet connections.
Kindly don't compromise with Security. I would highly recommend you to keep update your mobile number and make sure you enable 2-Step verification in your Gmail Account Settings. Since you know well that Gmail is not like Yada..Yada fake Facebook account. You might be using Gmail ID to sign in so many other Google services and Third-Party application too. Hence, security of this email is extremely important. You can manage this settings at accounts.google.com under sign in option.
I'd highly appreciate if you could share feedback or suggestion for this article. Thanks.
✅ How do I forward my cPanel email to Gmail?
Login to cPanel and setup e-mail forwarding by going to E-mail accounts forwarding option.
✅ Does Gmail block forwarding?
No, Gmail doesn't block forwarding.
✅ How long does Gmail forwarding take?
Generally, 5-10 minutes. Follow this guide properly step-by-step.
✅ Is forwarding cPanel e-mail to Gmail Free?
Well, this method is limited for sending and receiving email. But, if you want to host email directly on Gmail Server, and apart from email-hosting if you want to enjoy full access to Google service then you should surely prefer Google Workspace.
Related Tutorials