Neste artigo, vai aprender através do processo de instalação manual do WordPress num servidor Ubuntu 22.04 usando NGINX, MariaDB, e PHP 8.2. Estas pilhas irão fornecer uma plataforma poderosa e eficiente para executar o seu site WordPress com uma velocidade surpreendente.
Siga estes 3 passos e veja o vídeo. Precisa de ajuda? Contacte-me.😊
Agora antes de começar, aqui vai uma dica rápida. Use Search and Replace Extension para mudar em massa o exemplo.com para o seu próprio domínio nesta página web.

Dica de poupança de tempo para os utilizadores do Google Chrome.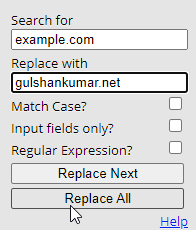 Parte A: Manter os Nameservers activos
Vamos utilizar Cloudflare DNS para obter o certificado Let's Encrypt Wildcard SSL. Complete este passo primeiro para desfrutar de migração de tempo zero.
Verificar Nameservers actuais
Parte B: Preparar um servidor Ubuntu 22.04 LTS Server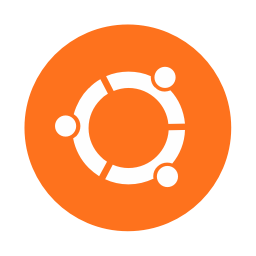 1. Inscreva-se na Vultr para obter $100 Créditos grátis (Válido por 30 dias)
Como alguém que já experimentou tantas empresas de servidores Cloud, a minha experiência diz que não se pode errar com a Vultr. Estes tipos são genuínos e atenciosos quando se trata de apoio e serviços.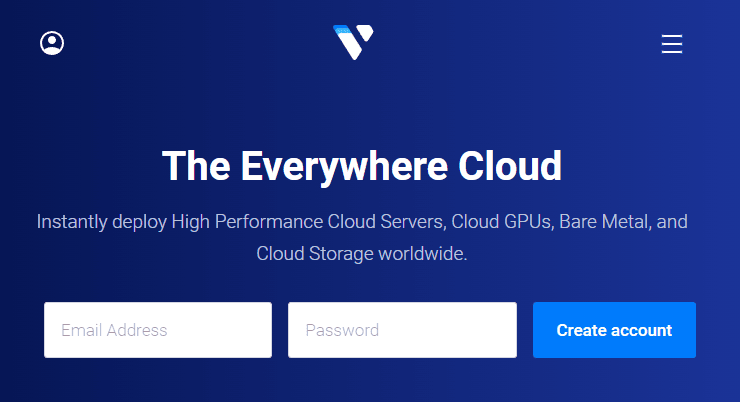 ⚡ Desempenho
NVME / SSD
3.7 GHz CPU
Velocidade de rede até 5Gbps
Datacenter na América, Europe, Asia, Austraillia
IPV6 pronto
💡 Características
Iniciante – Painel Amigável
Um clique para Snapshot
Cópias de segurança automáticas (pagas)
Firewall Nuvem Livre
Protecção DDoS (Paid)
Virtualização a 100% KVM
⚙ Apoio
PayPal/Cartão
Suporte de bilhetes 24/7
Documentação
Criar um novo Servidor VPS
Basta clicar no botão "mais" para começar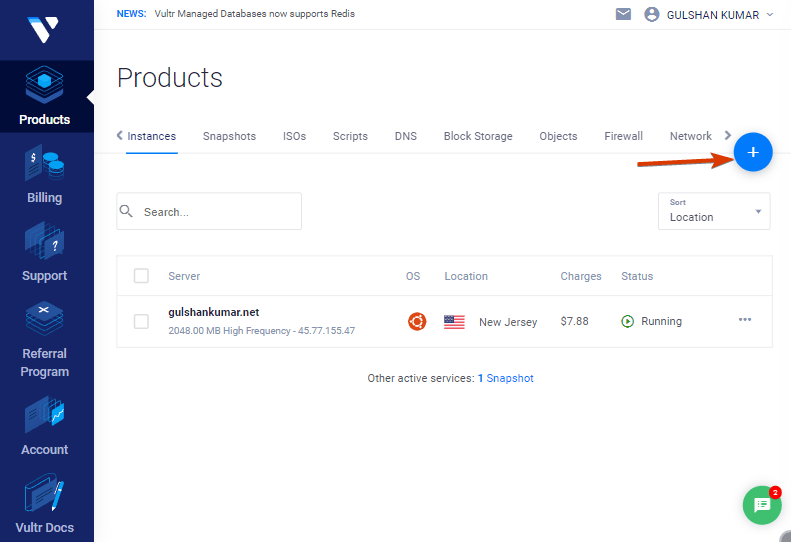 3. Escolher Servidor de Alta Frequência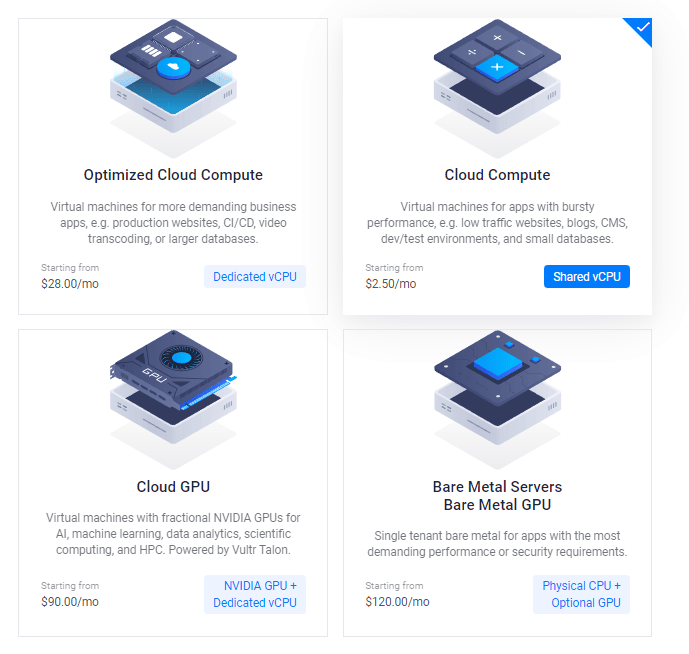 Depois disto, pode seleccionar a opção AMD High Performance ou Intel High Frequency em Tecnologia de CPU & Armazenamento. Tem o CPU e o Disco NVMe mais rápido de sempre. Se o orçamento for menor, então vá com o plano Regular com CPU Intel, no qual obterá o disco SSD.
4. Escolha uma localização de servidor
Escolha uma localização de servidor que esteja próxima ao seu público-alvo.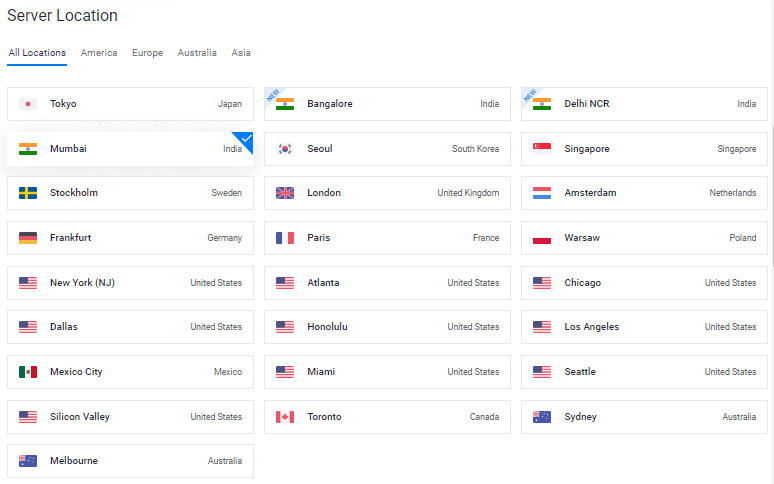 5. Selecione o sistema operacional Ubuntu 22.04 x64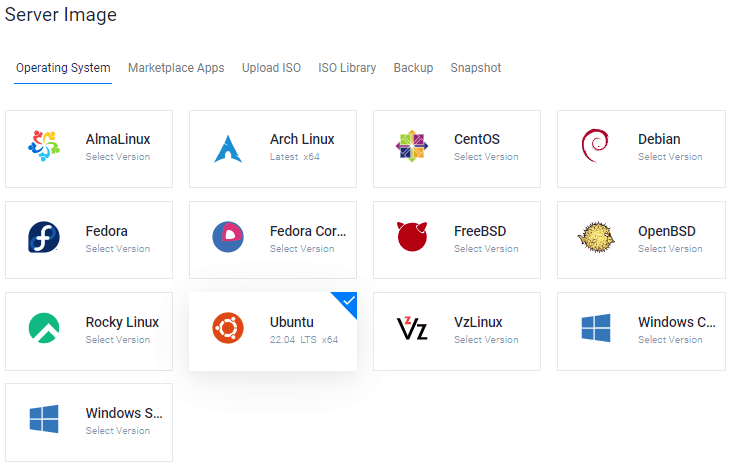 Long Term Support (LTS) is a product lifecycle management policy in which a stable version of computer software is maintained for a longer period of time than the standard edition.
6. Escolha um tamanho de servidor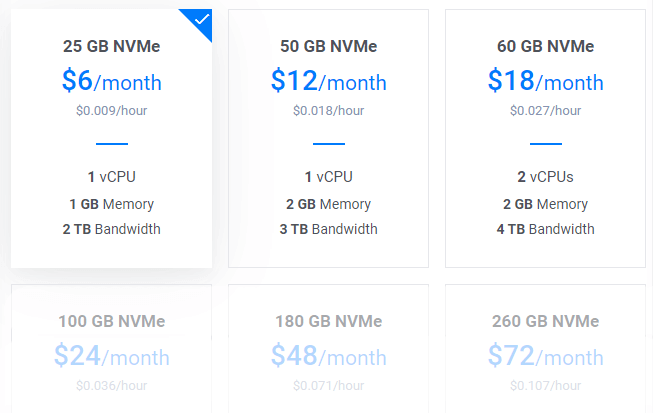 O plano de $6/mo seria um óptimo ponto de partida para um novo blogue. Pode actualizar a qualquer momento, de acordo com os requisitos.
Dica: Se estiver a migrar, verifique o tamanho total da instalação em Informação sobre saúde do Sítio.
Habilitar IPV6, Backup
8. Acrescentar uma chave SSH
Este é um passo recomendado e opcional para o reforço da segurança.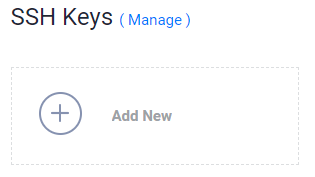 Clique em Adicionar novo botão para adicionar uma nova chave SSH para submeter a sua chave 🔒Public.
Gerar Chaves usando o método abaixo conforme o seu SO.

Descarregar a aplicação PuTTy.
Procura de PuTTygen no menu Iniciar
Clique em Gerar botão e passe o ponteiro do rato
Copiar chave pública e fornecer à Vultr
Introduza a frase-chave
Guardar 🔑Private Chave no local mais seguro.
Isto pode ser usado para login no SSH ou SFTP.

Executar: ssh-keygen -t rsa. Para uma chave mais segura 4096-bit, correr: ssh-keygen -t rsa -b 4096
Prima enter quando lhe for perguntado onde pretende guardar a chave (isto irá utilizar a localização predefinida).
Introduza uma frase-chave para a sua chave.
Run cat ~/.ssh/id_rsa.pub – isto dar-lhe-á a chave no formato adequado para colar no painel de controlo.
Certifique-se de que faz cópias de segurança do ficheiro ~/.ssh/id_rsa. Isto não pode ser recuperado se for perdido.
Seleccione a sua chave SSH
Seguindo estas etapas, anexará a sua chave pública à sua nova Instância. Depois, poderá iniciar sessão no SSH utilizando a palavra-passe de texto simples e a chave SSH ambas.

9. Ligar a regra da Firewall Web à Instância do Servidor

Clique em Gerir e criar um novo Grupo Firewall.
Permitir a porta TCP 22 para SSH. 80 para HTTP e 443 HTTPS para IPV4 e IPV6, ambas as regras.
Uma vez feito, ligue o grupo Firewall à sua Instância.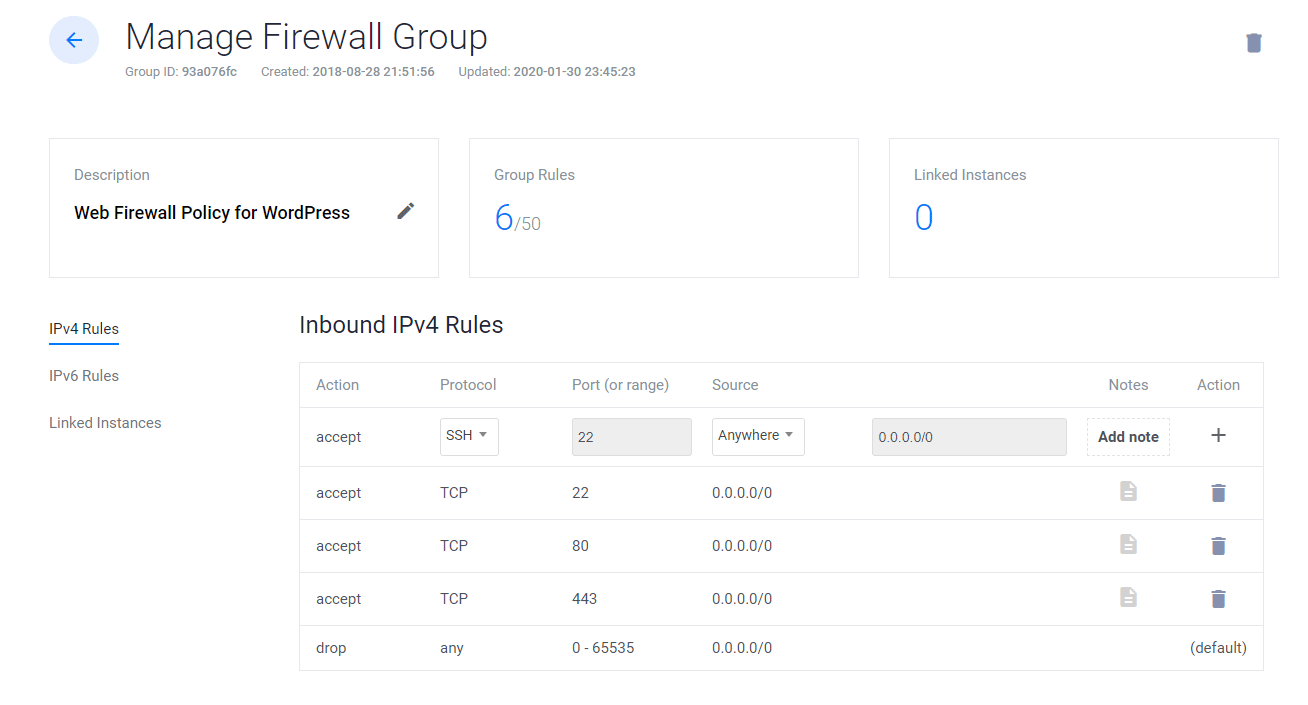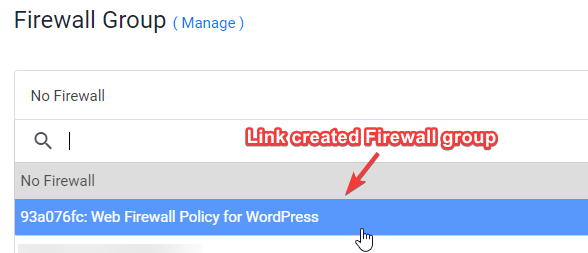 10. Digite Hostname e clique em Deploy Now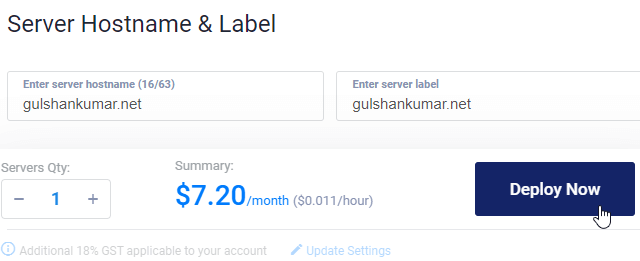 Verá agora a instalação em curso

Ir para a página de Nova Instância
Copiar endereço IP, nome de utilizador e palavra-passe. A sua porta padrão é 22.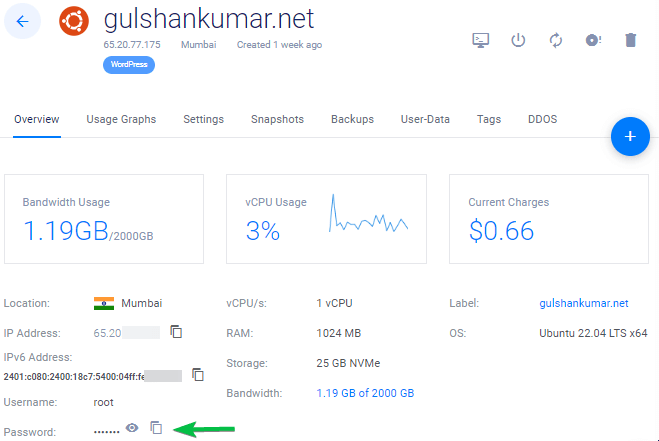 12. Desactivar Password Login
Por razões de segurança, recomenda-se desactivar a autenticação por senha e permitir apenas a autenticação com base em chaves.
Editar o ficheiro de configuração nano /etc/ssh/sshd_config
Encontrar (CTRL + W) e pesquisar PasswordAuthentication
Mudança de valor de sim para não
Para salvar o tipo, CTRL + O
Reiniciar o serviço SSH usando o comando sudo service ssh restart
A partir da próxima vez, só poderá usar SSH através da chave, conforme mostrado no vídeo.
Para Linux ou Mac, utilizar Terminal com comando como este
ssh [email protected] -p 22 -i id_rsa
Passo 13. Desactivar o UFW
Quando se implementa uma nova instância na VULTR, esta vem com a UFW (Uncomplicated Firewall) activada que mantém todas as portas bloqueadas excepto a porta SSH 22. Isto pode retornar ERR_CONNECTION_REFUSED Error no navegador. Para corrigir isto, eu sugeriria manter o UFW desactivado.
ufw disable
Explicação suficiente para as coisas básicas. Agora, vou acelerar o processo original para a instalação do WordPress na pilha de LEMP.
Parte C. Implantar WordPress no LEMP Stack
1. Actualização de repositórios
Digite abaixo o comando e prima a tecla enter
sudo -s
apt update && apt upgrade -y && apt dist-upgrade && apt autoclean && apt autoremove -y && reboot
ou
wget -qO update https://dl.gulshankumar.net/update && chmod +x update
Da próxima vez, usar sempre abaixo o comando de atalho para actualizar.
./update
2. Instalar o MariaDB com segurança
Faça novamente login e entre com o seguinte comando
sudo apt install mariadb-server -y && sudo mysql_secure_installation
Responder às perguntas abaixo
Enter current password for root (enter for none): Prima a tecla Enter
Switch to unix_socket authentication [Y/n]: Prima N e entre
Set root password? [Y/n]: Prima a tecla Enter.
New password: Digite a sua palavra-passe, pode usar Dashlane para gerar. Direito de clicar em colar.
Re-enter new password: Digite novamente a sua palavra-passe.
Após a definição bem sucedida da senha, verá
Password updated successfully!
Reloading privilege tables..
... Success!
Além disso, é necessário responder às seguintes perguntas.
Remove anonymous users? [Y/n]: Prima Y e entre
Disallow root login remotely? [Y/n]: Prima Y e entre
Remove test database and access to it? [Y/n]: Prima Y e entre
Reload privilege tables now? [Y/n]: Prima Y e entre
3. Criar uma nova base de dados para WordPress
Inicie sessão no MySQL, prima a tecla enter quando pedir a palavra-passe.
mysql -u root -p
Criar uma nova base de dados, e conceder privilégios para utilizar o seu utilizador com palavra-passe. É aqui que o WordPress armazena toda a informação de correio, páginas, temas, plugin, etc.
create database wordpress;
grant all on wordpress.* to gulshan@localhost identified by '5pY8CKJxDRJEGQNkX7';
flush privileges;
exit;
Onde o seu …
database is wordpress
username is gulshan
password is 5pY8CKJxDRJEGQNkX7
Dica: Considere o uso de credencial de login única
4. Instalar PHP 8.2, NGINX e definir Permissão
sudo add-apt-repository ppa:ondrej/php -y && apt update && apt install php8.2-fpm php8.2-common php8.2-mysql php8.2-xml php8.2-xmlrpc php8.2-curl php8.2-gd php8.2-imagick php8.2-cli php8.2-dev php8.2-imap php8.2-mbstring php8.2-soap php8.2-zip php8.2-bcmath -y && sed -i 's/;cgi.fix_pathinfo=1/cgi.fix_pathinfo=0/g' /etc/php/8.2/fpm/php.ini && service php8.2-fpm restart && apt install nginx -y && chown -R www-data:www-data /var/www/ && chmod -R 755 /var/www
Ajustar a configuração PHP
A maioria dos temas e plugins extravagantes requer uma configuração PHP de alta qualidade para funcionar. Por conseguinte, devemos fazer estas alterações.
sed -i 's/memory_limit = 128M/memory_limit = 512M/g' /etc/php/8.2/fpm/php.ini
sed -i 's/post_max_size = 8M/post_max_size = 128M/g' /etc/php/8.2/fpm/php.ini
sed -i 's/max_file_uploads = 20/max_file_uploads = 30/g' /etc/php/8.2/fpm/php.ini
sed -i 's/max_execution_time = 30/max_execution_time = 900/g' /etc/php/8.2/fpm/php.ini
sed -i 's/max_input_time = 60/max_input_time = 3000/g' /etc/php/8.2/fpm/php.ini
sed -i 's/upload_max_filesize = 2M/upload_max_filesize = 128M/g' /etc/php/8.2/fpm/php.ini
service php8.2-fpm restart
5. Instalar Wildcard Let's Encrypt SSL Certificate
Criar um ficheiro cloudflare.ini dentro de /root/.secrets/directório.
mkdir -p /root/.secrets/ && cd /root/.secrets/ && nano cloudflare.ini
Adicionar código abaixo e guardar usando CTRL+O e sair usando CTRL+X
dns_cloudflare_email = "your-cloudflare[email protected]"
dns_cloudflare_api_key = "XXXXXXXXXXXXXXXXX"
Encontre o seu e-mail Cloudflare e chave API Global em "O Meu Perfil" > Tokens API > Chave API Global
chmod 0400 /root/.secrets/cloudflare.ini
Instalar Certbot e DNS Authenticator de acordo com OS e servidor web HTTP
snap install --beta --classic certbot
snap set certbot trust-plugin-with-root=ok
snap install --beta certbot-dns-cloudflare
snap connect certbot:plugin certbot-dns-cloudflare
Obter Certificado SSL Wildcard
certbot certonly --dns-cloudflare --dns-cloudflare-credentials /root/.secrets/cloudflare.ini -d example.com,*.example.com --preferred-challenges dns-01
Definir Renovação Automática usando Cron Job
Type crontab -e
Type 1 for nano editor
Enter below command and save
0 0 * * *  /etc/init.d/nginx reload >/dev/null 2>&1
Renovação de testes
certbot renew --dry-run
6. Configurar bloco de servidor Nginx
Isto é importante onde precisa de configurar o seu domínio, como NGINX deve tratar os seus pedidos HTTP.
Eliminar blocos de servidores predefinidos.
rm /etc/nginx/sites-available/default && rm /etc/nginx/sites-enabled/default
Criar um novo bloco de servidor
cd /etc/nginx/sites-available/
nano example.com
Substituir exemplo.com por domínio próprio
Introduza o código abaixo e prima CTRL+O para guardar e CTRL+X para sair.
Geral (Sem Caching de Página)
server {
    listen         80;
    return 301 https://$host$request_uri;
}
server {
# Document Root
root /var/www/html;
index index.php index.html index.htm;
server_name .example.com;
client_max_body_size 0;

    listen [::]:443 ssl http2 ipv6only=on;
    listen 443 ssl http2;
        ssl_protocols TLSv1.1 TLSv1.2 TLSv1.3;
        ssl_certificate /etc/letsencrypt/live/example.com/fullchain.pem;
        ssl_certificate_key /etc/letsencrypt/live/example.com/privkey.pem;
        ssl_prefer_server_ciphers on;
        ssl_session_cache   shared:SSL:20m;
        ssl_session_timeout 20m;
        ssl_ciphers 'TLS13+AESGCM+AES128:EECDH+AES128';


error_page 404 /404.html;
error_page 500 502 503 504 /50x.html;

# Block XMLRPC
location = /xmlrpc.php {
    deny all;
}

location / {
    try_files $uri $uri/ /index.php$is_args$args;
}

location ~* \.php$ {
if ($uri !~ "^/uploads/") {
fastcgi_pass unix:/run/php/php8.2-fpm.sock;
}
include fastcgi_params;
fastcgi_param SCRIPT_FILENAME $document_root$fastcgi_script_name;
fastcgi_param SCRIPT_NAME $fastcgi_script_name;
}
location = /favicon.ico {
log_not_found off;
access_log off;
}

location = /robots.txt {
log_not_found off;
access_log off;
allow all;
}

location ~* .(css|gif|svg|ico|woff2|eot|jpeg|webp|jpg|js|png)$ {
expires 1y;
log_not_found off;
}

# Enable Gzip compression.
gzip on;

# Disable Gzip on IE6.
gzip_disable "msie6";

# Allow proxies to cache both compressed and regular version of file.
# Avoids clients that don't support Gzip outputting gibberish.
gzip_vary on;

# Compress data, even when the client connects through a proxy.
gzip_proxied any;

# The level of compression to apply to files. A higher compression level increases
# CPU usage. Level 5 is a happy medium resulting in roughly 75% compression.
gzip_comp_level 5;

# Compress the following MIME types.
gzip_types
 application/atom+xml
 application/javascript
 application/json
 application/ld+json
 application/manifest+json
 application/rss+xml
 application/vnd.geo+json
 application/vnd.ms-fontobject
 application/x-font-ttf
 application/x-web-app-manifest+json
 application/xhtml+xml
 application/xml
 font/opentype
 image/bmp
 image/svg+xml
 image/x-icon
 text/cache-manifest
 text/css
 text/plain
 text/vcard
 text/vnd.rim.location.xloc
 text/vtt
 text/x-component
 text/x-cross-domain-policy;
}
Para o facilitador de cache
server {
    listen         80;
    return 301 https://$host$request_uri;
}
server {
# Document Root
root /var/www/html;
index index.php index.html index.htm;
server_name .example.com;
client_max_body_size 0;

    listen [::]:443 ssl http2 ipv6only=on;
    listen 443 ssl http2;
        ssl_protocols TLSv1.1 TLSv1.2 TLSv1.3;
        ssl_certificate /etc/letsencrypt/live/example.com/fullchain.pem;
        ssl_certificate_key /etc/letsencrypt/live/example.com/privkey.pem;
        ssl_prefer_server_ciphers on;
        ssl_session_cache   shared:SSL:20m;
        ssl_session_timeout 20m;
        ssl_ciphers 'TLS13+AESGCM+AES128:EECDH+AES128';


error_page 404 /404.html;
error_page 500 502 503 504 /50x.html;


# Block XMLRPC
location = /xmlrpc.php {
    deny all;
}


# Rules for Cache Enabler Plugin - Static File Serving

    set $cache_uri $request_uri;

    # bypass cache if POST requests or URLs with a query string
    if ($request_method = POST) {
    set $cache_uri 'nullcache';
    }

    if ($query_string != '') {
    set $cache_uri 'nullcache';
    }

    # bypass cache if URLs containing the following strings
    if ($request_uri ~* '(/wp-admin/|/xmlrpc.php|/wp-(app|cron|login|register|mail).php|wp-.*.php|/feed/|index.php|wp-comments-popup.php|wp-links-opml.php|wp-locations.php|sitemap(index)?.xml|[a-z0-9-]+-sitemap([0-9]+)?.xml)') {
    set $cache_uri 'nullcache';
    }

    # bypass cache if cookies contain the following strings
    if ($http_cookie ~* '(wp-postpass|wordpress_logged_in|comment_author)_') {
    set $cache_uri 'nullcache';
    }

    # custom installation subdirectory
    set $custom_subdir '';

    # default HTML file
    set $cache_enabler_uri '${custom_subdir}/wp-content/cache/cache-enabler/${http_host}${cache_uri}${scheme}-index.html';

    # WebP HTML file
    if ($http_accept ~* 'image/webp') {
    set $cache_enabler_uri '${custom_subdir}/wp-content/cache/cache-enabler/${http_host}${cache_uri}${scheme}-index-webp.html';
    }

    location / {
    gzip_static on; # this directive is not required but recommended
    try_files $cache_enabler_uri $uri $uri/ $custom_subdir/index.php?$args;
    }

location ~* \.php$ {
if ($uri !~ "^/uploads/") {
fastcgi_pass unix:/run/php/php8.2-fpm.sock;
}
include fastcgi_params;
fastcgi_param SCRIPT_FILENAME $document_root$fastcgi_script_name;
fastcgi_param SCRIPT_NAME $fastcgi_script_name;
}
location = /favicon.ico {
log_not_found off;
access_log off;
}

location = /robots.txt {
log_not_found off;
access_log off;
allow all;
}

location ~* .(css|gif|svg|ico|jpeg|webp|woff2|eot|jpg|js|png)$ {
expires 1y;
log_not_found off;
}

# Enable Gzip compression.
gzip on;

# Disable Gzip on IE6.
gzip_disable "msie6";

# Allow proxies to cache both compressed and regular version of file.
# Avoids clients that don't support Gzip outputting gibberish.
gzip_vary on;

# Compress data, even when the client connects through a proxy.
gzip_proxied any;

# The level of compression to apply to files. A higher compression level increases
# CPU usage. Level 5 is a happy medium resulting in roughly 75% compression.
gzip_comp_level 5;

# Compress the following MIME types.
gzip_types
 application/atom+xml
 application/javascript
 application/json
 application/ld+json
 application/manifest+json
 application/rss+xml
 application/vnd.geo+json
 application/vnd.ms-fontobject
 application/x-font-ttf
 application/x-web-app-manifest+json
 application/xhtml+xml
 application/xml
 font/opentype
 image/bmp
 image/svg+xml
 image/x-icon
 text/cache-manifest
 text/css
 text/plain
 text/vcard
 text/vnd.rim.location.xloc
 text/vtt
 text/x-component
 text/x-cross-domain-policy;
}
É necessário instalar o plugin Cache Enabler para usufruir dos benefícios da cache.
FastCGI (Recomendado)
Se quiser usar FastCGI Cache, em vez disso implemente abaixo o Bloco de Servidor.
# NGINX Cache path
fastcgi_cache_path /var/run/nginx-cache levels=1:2 keys_zone=WORDPRESS:100m inactive=6h;
fastcgi_cache_key "$scheme$request_method$host$request_uri";
fastcgi_cache_use_stale error timeout invalid_header http_500;
fastcgi_ignore_headers Cache-Control Expires Set-Cookie;

server {
    listen         80;
    return 301 https://$host$request_uri;
}
server {
root /var/www/html;
index index.php index.html index.htm;
server_name .example.com;
client_max_body_size 0;

    listen [::]:443 ssl http2 ipv6only=on;
    listen 443 ssl http2;
        ssl_protocols TLSv1.1 TLSv1.2 TLSv1.3;
        ssl_certificate /etc/letsencrypt/live/example.com/fullchain.pem;
        ssl_certificate_key /etc/letsencrypt/live/example.com/privkey.pem;
        ssl_prefer_server_ciphers on;
        ssl_session_cache   shared:SSL:20m;
        ssl_session_timeout 20m;
        ssl_ciphers 'TLS13+AESGCM+AES128:EECDH+AES128';

error_page 404 /404.html;
error_page 500 502 503 504 /50x.html;


set $skip_cache 0;
    if ($request_method = POST) {set $skip_cache 1;}
    if ($request_uri ~* "/wp-admin/|/xmlrpc.php|/wp-.*.php|index.php|sitemap") {set $skip_cache 1;}
    if ($http_cookie ~* "comment_author|wordpress_[a-f0-9]+|wp-postpass|wordpress_no_cache|wordpress_logged_in") {set $skip_cache 1;}
    if ($query_string = "unapproved*") {set $skip_cache 1;}
    if ($cookie_woocommerce_items_in_cart = "1" ){ set $skip_cache 1;}
    if ($request_uri ~* "/(cart|checkout|my-account)/*$") {set $skip_cache 1;}

# Block XMLRPC
location = /xmlrpc.php {
    deny all;
}

location / {
try_files $uri $uri/ /index.php$is_args$args;
}

location ~* \.php$ {

 if ($uri !~ "^/uploads/") {
        fastcgi_pass unix:/run/php/php8.2-fpm.sock;
        }

        try_files                       $uri =404;
        include                         /etc/nginx/fastcgi_params;
        fastcgi_param                   SCRIPT_FILENAME $document_root$fastcgi_script_name;
        fastcgi_pass                    unix:/run/php/php8.2-fpm.sock;
        fastcgi_index                   index.php;
                fastcgi_cache_bypass $skip_cache;
                fastcgi_no_cache $skip_cache;
                fastcgi_cache WORDPRESS;
                fastcgi_cache_valid 200 30d;
                fastcgi_cache_valid 301 302 303 307 308 404 410 451 1m;
                add_header X-Cache $upstream_cache_status;

}

location = /favicon.ico {
log_not_found off;
access_log off;
}

location = /robots.txt {
log_not_found off;
access_log off;
allow all;
}

location ~* .(css|gif|ico|svg|webp|woff2|eot|jpeg|jpg|js|png)$ {
expires 1y;
log_not_found off;
}

# Enable Gzip compression.
gzip on;

# Disable Gzip on IE6.
gzip_disable "msie6";

# Allow proxies to cache both compressed and regular version of file.
# Avoids clients that don't support Gzip outputting gibberish.
gzip_vary on;

# Compress data, even when the client connects through a proxy.
gzip_proxied any;

# The level of compression to apply to files. A higher compression level increases
# CPU usage. Level 5 is a happy medium resulting in roughly 75% compression.
gzip_comp_level 5;

# Compress the following MIME types.
gzip_types
 application/atom+xml
 application/javascript
 application/json
 application/ld+json
 application/manifest+json
 application/rss+xml
 application/vnd.geo+json
 application/vnd.ms-fontobject
 application/x-font-ttf
 application/x-web-app-manifest+json
 application/xhtml+xml
 application/xml
 font/opentype
 image/bmp
 image/svg+xml
 image/x-icon
 text/cache-manifest
 text/css
 text/plain
 text/vcard
 text/vnd.rim.location.xloc
 text/vtt
 text/x-component
 text/x-cross-domain-policy;
}
Para guardar, prima a tecla CTRL+O e Enter. Em seguida, sair do nano editor usando o comando CTRL+X.
No caso de FastCGI, é necessário utilizar o plugin 'NGINX Helper'. Funciona também com o URL codificado Hindi. Tenha em mente que não suporta AMP. Eu pessoalmente não uso AMP. (Recomendado)
Alternativamente, a cache NGINX funciona para purgar a URL AMP mas não suporta a URL codificada Hindi. Em configurações, deve manter o caminho da cache /var/run/nginx-cache/
Cuidado!
Por exemplo, se estiver a utilizar o tema Newspaper e servir um tema móvel separado, por favor, colar sem o método FastCGI e utilizar um plugin WP Rocket porque pode servir um cache móvel separado fora da caixa.
7. Criar ligações simbólicas entre dois directórios
Se falhar este passo, pode obter ERR_CONNECTION_REFUSED
Para activar o bloco do servidor, crie uma ligação simbólica do seu ficheiro NGINX Server Block do directório /etc/nginx/sites-available/ para /etc/nginx/sites-enabled
Antes de correr abaixo do comando, substitua por favor exemplo.com para possuir o domínio.
ln -s /etc/nginx/sites-available/example.com /etc/nginx/sites-enabled/
Configuração de teste
nginx -t
Reiniciar e actualizar
service nginx restart && service php8.2-fpm restart && service mysql restart && apt-get update && apt upgrade -y
8. Instalar WordPress
Download WordPress files in /var/www/html directory and set permission.
cd /var/www/html && wget https://pt.wordpress.org/latest-pt_PT.tar.gz && tar -xvzf latest-pt_PT.tar.gz && mv -v wordpress/* /var/www/html && rm -rf index.nginx-debian.html latest-pt_PT.tar.gz wordpress && chown -R www-data:www-data /var/www/ && sudo chmod -R 755 /var/www
Para actualizar a permissão no futuro, use o comando abaixo
chown -R www-data:www-data /var/www/ && sudo chmod -R 755 /var/www
9. Actualização do DNS
Se estiver a alojar o WordPress localmente, quiser contornar o proxy ou quiser realizar uma migração sem tempo de paragem, este passo é útil. Eu geralmente prefiro no caso da área WordPress Dev estática 😉
Se estiver a alojar o WordPress localmente, quiser contornar o proxy ou quiser realizar uma migração sem tempo de paragem, este passo é útil. Eu geralmente prefiro no caso da área WordPress Dev estática
Para Windows
Ir para propriedades de ‪C:\Windows\System32\drivers\etc\hosts
Alterar a permissão "Segurança" para controlo total do seu nome de utilizador actual
Agora pode editar livremente o ficheiro anfitrião sob o seu utilizador do Sistema e guardá-lo.
# Para a mesma máquina pode ter o endereço do local de acolhimento outro IP público
127.0.0.1 example.com
127.0.0.1 www.example.com
Este é o aspecto que deve ter.
Para Mac ou Linux
Pode editar o ficheiro anfitrião usando o comando abaixo
sudo nano /etc/hosts
Actualização do DNS com Cloudflare
Se tudo estiver perfeito e quiser fazer o seu site ao vivo, inicie sessão no Cloudflare DNS e actualize o novo IP
| | | |
| --- | --- | --- |
| A | @ | IPV4 address |
| AAAA | @ | IPV6 address |
| CNAME | www | example.com |
onde @ denota domínio nú example.com
9. Visite o seu nome de domínio para configurar o WordPress
Se quiser manter o domínio da versão não-www para o seu WordPress, então visite a versão não-wwww.
https://example.com
Fornecer credencial de login na base de dados para iniciar a configuração do WordPress
Instalação em execução
Preencha os detalhes básicos do seu novo site e instale o WordPress.
Iniciar sessão no WordPress
Se utilizou FastCGI server block então a primeira coisa que deve fazer é instalar NGINX Cache plugin e configurar /var/www/cache como caminho de cache.
Outras coisas necessárias
Utilize os Serviços SMTP plugin para o envio de e-mail do WordPress, caso contrário não poderá receber a ligação de redefinição de palavra-passe, formulário de contacto 7 mensagens.
Finalmente, a instalação do WordPress foi concluída. Mantenha sempre o backup.
Aprecio muito o vosso precioso tempo na leitura deste artigo. Vejo-o no próximo tutorial!